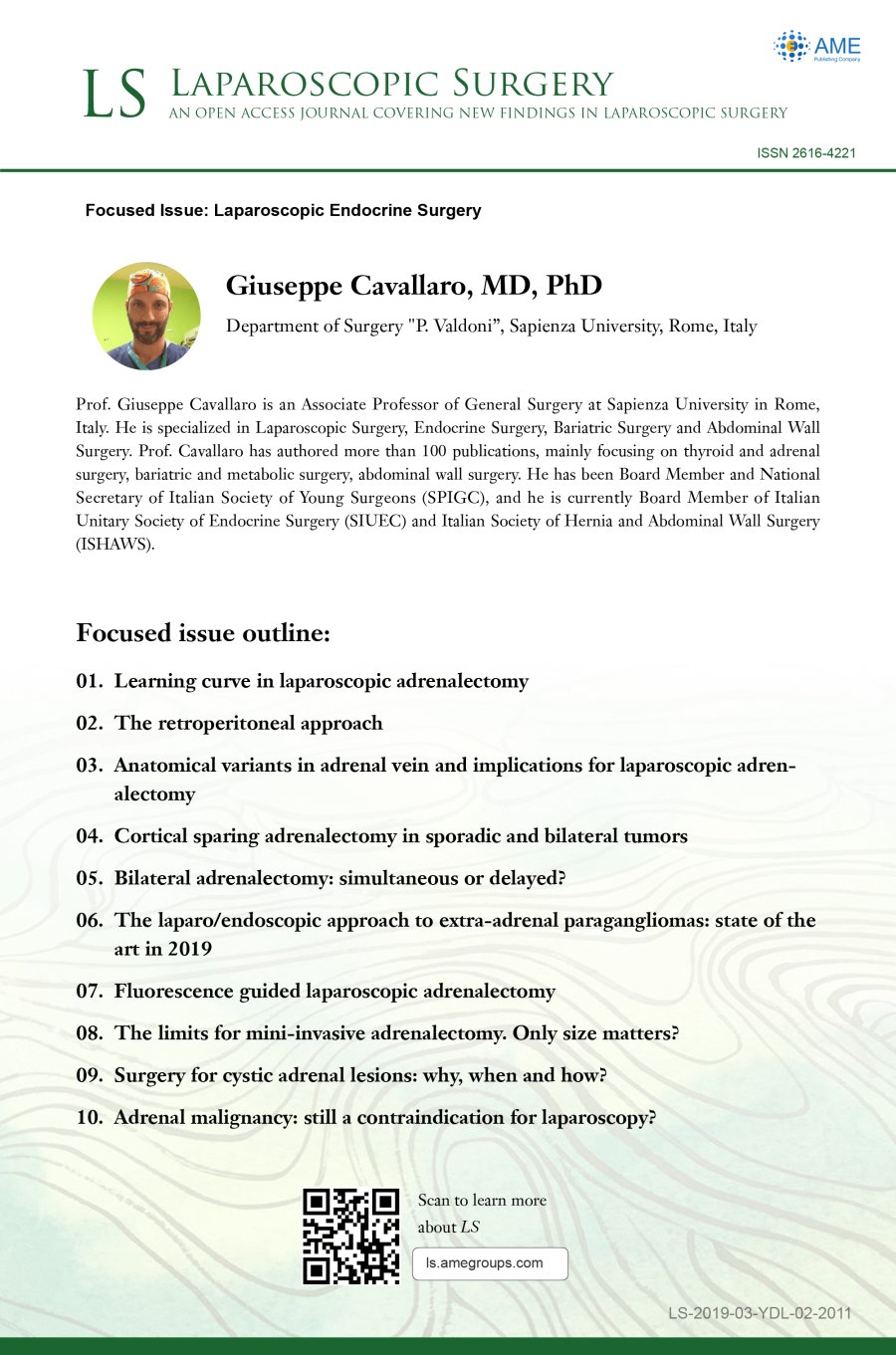 This focused issue on "Laparoscopic Endocrine Surgery" is edited by Prof. Giuseppe Cavallaro, from Department of Surgery "P. Valdoni", Sapienza University, Rome, Italy.
Prof. Giuseppe Cavallaro is an Associate Professor of General Surgery at Sapienza University in Rome, Italy. He is specialized in Laparoscopic Surgery, Endocrine Surgery, Bariatric Surgery and Abdominal Wall Surgery. Prof. Cavallaro has authored more than 100 publications, mainly focusing on thyroid and adrenal surgery, bariatric and metabolic surgery, abdominal wall surgery. He has been Board Member and National Secretary of Italian Society of Young Surgeons (SPIGC), and he is currently Board Member of Italian Unitary Society of Endocrine Surgery (SIUEC) and Italian Society of Hernia and Abdominal Wall Surgery (ISHAWS).
Focused issue outline:
Learning curve in laparoscopic adrenalectomy
The retroperitoneal approach
Anatomical variants in adrenal vein and implications for laparoscopic adrenalectomy
Cortical sparing adrenalectomy in sporadic and bilateral tumors
Bilateral adrenalectomy: simultaneous or delayed?
The laparo/endoscopic approach to extra-adrenal paragangliomas: state of the art in 2019
Fluorescence guided laparoscopic adrenalectomy
The limits for mini-invasive adrenalectomy. Only size matters?
Surgery for cystic adrenal lesions: why, when and how?
Adrenal malignancy: still a contraindication for laparoscopy?