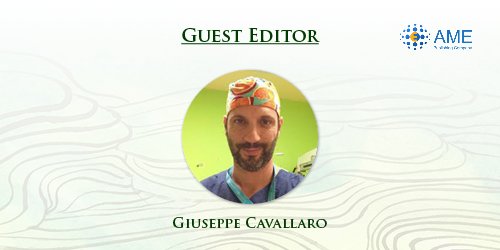 This focused issue on "Laparoscopic Endocrine Surgery" is edited by Prof. Giuseppe Cavallaro, from Department of Surgery "P. Valdoni", Sapienza University, Rome, Italy.
Prof. Giuseppe Cavallaro is an Associate Professor of General Surgery at Sapienza University in Rome, Italy. He is specialized in Laparoscopic Surgery, Endocrine Surgery, Bariatric Surgery and Abdominal Wall Surgery. Prof. Cavallaro has authored more than 100 publications, mainly focusing on thyroid and adrenal surgery, bariatric and metabolic surgery, abdominal wall surgery. He has been Board Member and National Secretary of Italian Society of Young Surgeons (SPIGC), and he is currently Board Member of Italian Unitary Society of Endocrine Surgery (SIUEC) and Italian Society of Hernia and Abdominal Wall Surgery (ISHAWS).
Review Article
Disclosure:
The series "Laparoscopic Endocrine Surgery" was commissioned by the editorial office, Laparoscopic Surgery without any sponsorship or funding. Giuseppe Cavallaro served as the unpaid Guest Editor for the series.