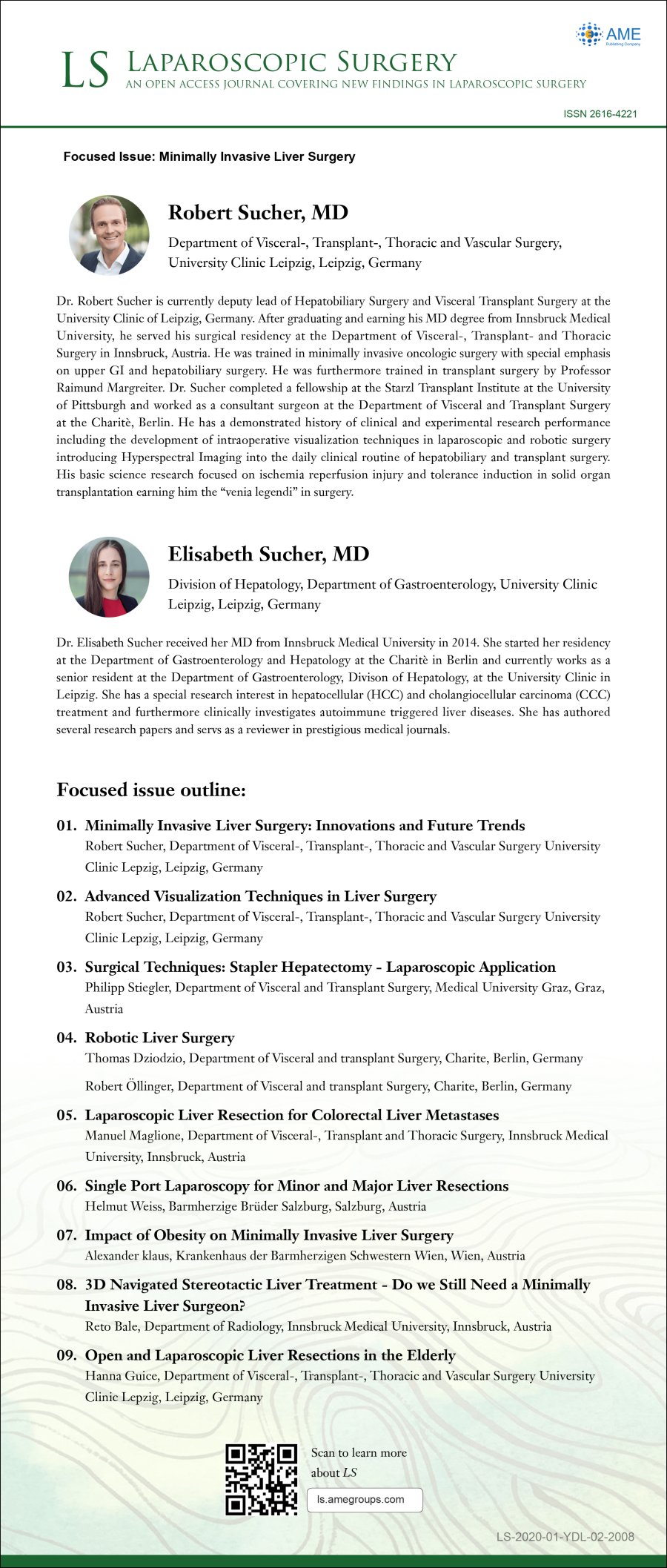 This focused issue on "Minimally Invasive Liver Surgery" is edited by Dr. Robert Sucher, from Department of Visceral-, Transplant-, Thoracic and Vascular Surgery, University Clinic Leipzig, Leipzig, Germany; and Dr. Elisabeth Sucher, from Division of Hepatology, Department of Gastroenterology, University Clinic Leipzig, Leipzig, Germany.
Dr. Robert Sucher is currently deputy lead of Hepatobiliary Surgery and Visceral Transplant Surgery at the University Clinic of Leipzig, Germany. After graduating and earning his MD degree from Innsbruck Medical University, he served his surgical residency at the Department of Visceral-, Transplant- and Thoracic Surgery in Innsbruck, Austria. He was trained in minimally invasive oncologic surgery with special emphasis on upper GI and hepatobiliary surgery. He was furthermore trained in transplant surgery by Professor Raimund Margreiter. Dr. Sucher completed a fellowship at the Starzl Transplant Institute at the University of Pittsburgh and worked as a consultant surgeon at the Department of Visceral and Transplant Surgery at the Charitè, Berlin. He has a demonstrated history of clinical and experimental research performance including the development of intraoperative visualization techniques in laparoscopic and robotic surgery introducing Hyperspectral Imaging into the daily clinical routine of hepatobiliary and transplant surgery. His basic science research focused on ischemia reperfusion injury and tolerance induction in solid organ transplantation earning him the "venia legendi" in surgery.
Dr. Elisabeth Sucher received her MD from Innsbruck Medical University in 2014. She started her residency at the Department of Gastroenterology and Hepatology at the Charitè in Berlin and currently works as a senior resident at the Department of Gastroenterology, Divison of Hepatology, at the University Clinic in Leipzig. She has a special research interest in hepatocellular (HCC) and cholangiocellular carcinoma (CCC) treatment and furthermore clinically investigates autoimmune triggered liver diseases. She has authored several research papers and servs as a reviewer in prestigious medical journals.
Focused issue outline:
Minimally Invasive Liver Surgery: Innovations and Future Trends
Robert Sucher, Department of Visceral-, Transplant-, Thoracic and Vascular Surgery University Clinic Lepzig, Leipzig, Germany
Advanced Visualization Techniques in Liver Surgery
Robert Sucher, Department of Visceral-, Transplant-, Thoracic and Vascular Surgery University Clinic Lepzig, Leipzig, Germany
Surgical Techniques: Stapler Hepatectomy - Laparoscopic Application
Philipp Stiegler, Department of Visceral and Transplant Surgery, Medical University Graz, Graz, Austria
Robotic Liver Surgery
Thomas Dziodzio, Department of Visceral and transplant Surgery, Charite, Berlin, Germany
Robert Öllinger, Department of Visceral and transplant Surgery, Charite, Berlin, Germany
Laparoscopic Liver Resection for Colorectal Liver Metastases
Manuel Maglione, Department of Visceral-, Transplant and Thoracic Surgery, Innsbruck Medical University, Innsbruck, Austria
Single Port Laparoscopy for Minor and Major Liver Resections
Helmut Weiss, Barmherzige Brüder Salzburg, Salzburg, Austria
Impact of Obesity on Minimally Invasive Liver Surgery
Alexander klaus, Krankenhaus der Barmherzigen Schwestern Wien, Wien, Austria
3D Navigated Stereotactic Liver Treatment - Do we Still Need a Minimally Invasive Liver Surgeon?
Reto Bale, Department of Radiology, Innsbruck Medical University, Innsbruck, Austria
Open and Laparoscopic Liver Resections in the Elderly
Hanna Guice, Department of Visceral-, Transplant-, Thoracic and Vascular Surgery University Clinic Lepzig, Leipzig, Germany